Fraud image by Gerd Altmann from Pixabay
Qtrans. Is Qtrans a scam? Does Qtrans pay freelancers? Qtrans language solutions reviews? Should you work for Qtrans? How do you know if a translation company is trustworthy? What is Qtrans language solutions global? What is the payment history of the translation agency Qtrans? How can I check if I will get paid by a translation agency? Will I ever get paid by Qtrans? What is the hourly wage at Qtrans? Which are the best sources for getting reviews about a company you want to work for? Is Qtrans a fraud? What should I do if I don't get paid by a translation agency? How can I check if a translation agency is a good choice to work for? Is Qtrans blacklisted? Where to get company reviews from freelancers? Are freelancers scammed by Qtrans?
Qtrans Pros and Cons
Friendly and loquacious communication in the beginning.
They did eventually pay both my original invoices, but only after applying a lot of pressure.
Frequent reports of freelancers not getting paid.
Annoying procrastination before paying.
After the first month of work, the freelancer is pushed to increase workload before they realize they won't get paid.
60 days payment terms, which means you will work 3 months for nothing before realizing you will never get paid.
Usually needs a threat from the freelancer of some kind to pay anything. This could be the threat of writing bad reviews, blacklisting on Proz, writing negative blog posts about Qtrans or starting a Qtrans scam Facebook group.
Qtrans did not pay my late payment fee and interest invoice which I was entitled to by law in my home country where I issue invoices from.
They will only pay to Paypal below 1000 USD, according to their policy, which they only disclose to you when you start asking questions about why you haven't got paid yet. They will only tell you to send them your Paypal email separately to accounting after fighting for your money for weeks (procrastination tactics).
---
Earn money by translating books written by others!
Now you can earn a commission on the sales when translating other peoples' books. You get 75% of the revenue in the beginning.

Earn extra money by translating books here
---
This Qtrans review is also available in the following languages:
[English] [German] [Swedish] [Danish] [Finnish]
[Arabic] [Spanish] [French] [Portuguese (pt-BR)] [Korean]
***
Do you need a fast and reliable translation tool where you can both receive translation jobs from agencies and other freelancers and outsource your translation jobs to others?
Then you should try Smartcat, which I use a lot myself, i.e., when I translated this document from English, which was the original language of this article.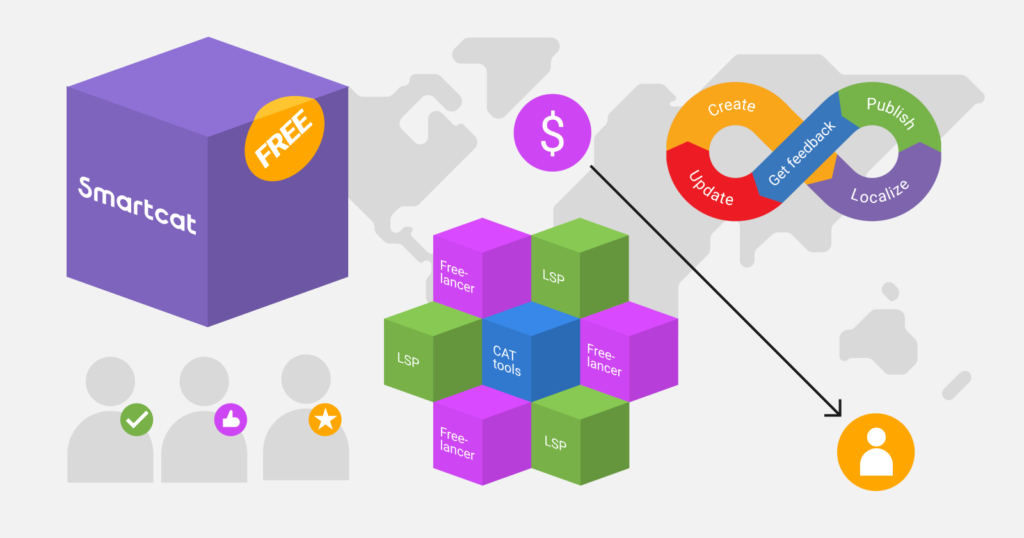 ***
Are you a freelancer and got scammed by Qtrans?
If you didn't get paid and want the world to know about it I can help you. If you are a native speaker of another language than already mentioned above please translate this blog article (or just the summary above – Qtrans Pros and Cons) about Qtrans from English to YOUR NATIVE LANGUAGE and send it to me. I will upload it here and cross-link all languages for enhanced SEO-effect and exposure.
Are you allowed to discuss your salary in public?
"It's unlawful for private sector employers to prohibit employees from discussing wages and compensation. Take advantage of that protection."
"What many workers don't realize is that it is unlawful for private sector employers to prohibit employees from discussing wages and compensation, and it has been since the National Labor Relations Act was passed in 1935."
Companies, agencies, and employers are not allowed to implement "wage secrecy" policies or use any kind of nondisclosure agreement or terms & conditions to prevent employees or contractors from discussing their monetary compensation. Even if you have signed an NDA which includes or prohibits you from disclosing any salary you received, or did not receive, that is not valid. In fact, it is illegal for a U.S.-based company to include such phrasing in employment contracts.
If an employer does not pay your salary it is seen as a serious breach of contract in many countries and usually gives the employee the right to resign immediately.
Qtrans review
I participated in the project "TV_Data_Transcription" where you transcribe audio from videos. This could be segments from TV shows, movies, documentaries, or Youtube videos. The transcription was often cumbersome and time-consuming. It involved people talking at the same time and making a lot of tags labeling different segments of the speech.
Quite early in the project, I was worried about the time consumption for these audio clips.
This was among the most time-consuming and challenging transcription tasks there is. Rapid speech with people talking on top of each other with various TV-sounds that need to be tagged as well as several other tags for each small audio clip. Even professional transcribers can only write around 1/5 of the speed a person talks (50-80 wpm) when they talk very fast. And they do talk VERY fast in many of these audio clips, especially in the cooking-related audios. For stock market clips, I could get down to 10h/1h audio speed, but this is also my specialisation (accounting/finance).
The current speed of mine: Minimum 10h work per 1h audio, average closer to 15h/1h audio.
It's not due to a slow transcription rate on the keyboard, I average 55wpm for longer segments of "book texts", which is a reasonable fast keyboard speed for a freelance transcriber (without foot-pedal and specialised equipment).
When signing up I was told this was very easy and 1h audio would take 2h to transcribe, this is humanly impossible with this type of audio. The auto-filled pre-transcriptions are of horrible quality, and I usually need to delete the whole text and start over completely.
Since I run several websites and have an accounting business too to attend to I was only able to work on average 4h per day with this, which implies around 16 min of completed audio transcription and editing per day.

Hence I would probably not be able to meet the critical minimum of 30 min completed audio per day. This criterion was later reduced.

Payment terms according to X.X (Resources Management Coordinator):

"As per our agreement: 60 USD / Transcribed audio hour, to be paid in USD within 60 days from invoicing via PayPal or Banks Transactions."

(This is not defined in the Third-Party AGREEMENT but in a separate mail)

My minimum limit was at least 90 USD/h audio but they convinced me it was a very easy and simple transcription project where 1h would only take 2h to transcribe. I didn't really believe this but gave it a shot since I'm quite fast on the keyboard I thought maybe I could make some easy money anyway from this because I had the time but needed money at the time.

Furthermore, 60 USD/audio hour is:

60/15 = 4 USD/hour wage

The minimum wage in Western Europe is around 9 EUR/h. 

Consequently, I could not work for this rate and after the first month I only did a few hours to see if there would be more easily transcribed material uploaded later on which would make it profitable to work some more, but I decided to wait until the 60 days payment terms passed to see if they would pay my first invoice. I was naturally reluctant to work anymore before I got my first payment. I had already found some negative remarks about Qtrans and freelancers having trouble getting paid. 

To be fair, after one month of practice I could sometimes get down to 6h work / 1h transcribed audio. But this still implies only 10 USD/hour at the very best, and this is not the average hence the actual hourly salary is still ridiculous.

They frequently advertise their jobs online with job offers like the one below.
Typical Qtrans job offer
X.X has sent the following message to you – and, possibly, to other translators listed at:

https://www.translationdirectory.com/translators/english_swedish.php
==============================================
Dear Translator,
Hope this email find you well.
This is X.X, Resources Management Coordinator from Qtrans Language Solutions Global.
I am glad to offer you a long-term transcription project, please check below more details:
• Language: Swedish
• Service: Transcription
• Volume: 100 hours
Kindly note that for this specific project, we need ONLY a native Swedish resource – living in Sweden or in Europe – to be handling this task. So, we highly appreciate it if you can send me your recently updated CV mentioning your residency country, upon the end client's request; in order to proceed with the allocation straightaway.
If you are interested and available for this project, kindly send us your rate per audio hour along with your CV.
I await your soonest response, thanks in advance!
X.X
Resources Management Coordinator
Qtrans Language Solutions Global
Tel: +1 6614262937
Fax: (661) 215 5181
4900 California Ave.
Tower B, 2nd Floor, Suite 210B
Bakersfield, CA 93309
USA
==============================================
External reviews of Qtrans
Something I should have done more thoroughly before diving into the Qtrans project was to look more closely at external reviews from freelancers and employees.
Where to get company reviews from freelancers?
At this time I also want to give some attention to other warnings and reviews about Qtrans Language Solutions Global online. These examples will help freelancers know where and how to check if a company or translation agency is trustworthy:
PROZ Qtrans assessment
This is the ancient and most famous resource for translators and translation agencies as well. This is your first stop when verifying potential job offers and lately, the reviews and grades have gone downhill for Qtrans. Their reputation has deteriorated to such a degree they are no longer allowed to post job offers on proz.com, one of the premier sources to get freelance translators. This image alone should make you stay away from Qtrans: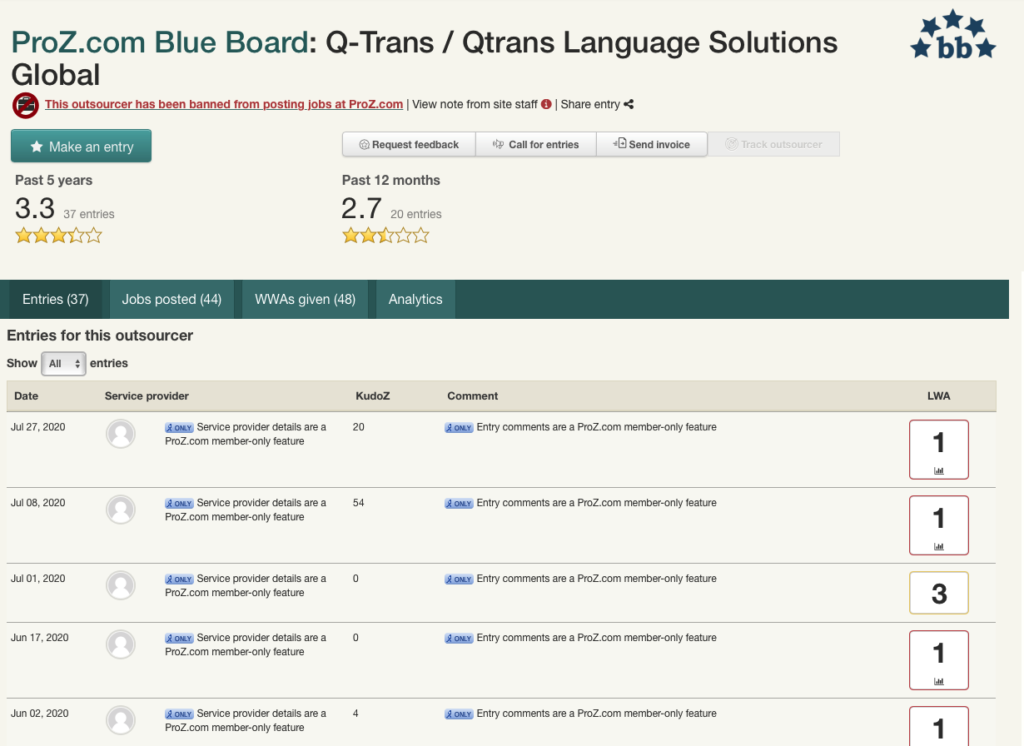 https://www.proz.com/blueboard/34382
Reddit Qtrans review
One freelancer with a "SEO mind" got upset with Qtrans and wrote a negative review on Reddit. This is a stroke of genius since the domain authority and backlinks of Reddit will make the review come up at the top of Google search results for Qtrans searches. The headline says it all
Qtrans is scam

"I started working and after 1 month of work, where I did it in my freetime. I realised that it was bullshit, and the hourly pay was ridiculously low. I decided not to continue and asked to get the 60usd I accumulated on that month after hours of translation. So I sent the voice-in as in the instructions. And now months after I still didn't receive a penny and the company doesn't respond on my emails… I want to warn others to stay away from that company…"
Yelp Qtrans reviews
https://www.yelp.com/not_recommended_reviews/qtrans-language-solutions-global-bakersfield
"They do not pay their translators and transcribers. I've been waiting for my payment for months and am yet to receive anything."
"Extremely unprofessional. Would not recommend."
Glassdoor Qtrans reviews
https://www.glassdoor.com/Reviews/Global-Language-Solutions-Reviews-E259125.htm
This is a very useful resource for freelancers and sole traders wanting to check potential translation agencies. On Glassdoor, actual employees write reviews about their experience from within the companies. When you look at the Qtrans reviews there is a lot of criticism from within the organisation. Just look at these statements and think twice about working for Qtrans:
"The leadership and upper managers are completely disconnected from the production cycle. Those who assume these positions, especially the two personnel with job title "production managers", are completely ignorant when it comes to the understanding of the translation industry."
"The company in general lacks an effective mechanism to distribute workload rather evenly among its employees. The company has several offices spread in Asia, United States and Europe. Theoretically, workload should be distributed based on factors such as time zone, number of personnel, complexity of projects, etc. However, the company adopted a very simple, ineffective and somewhat stupid way to distribute workload – number of projects."
"The upper managers had already developed a habit of hurling blames for whatever issues that arise. To make things worse, the company specifically targeted people with a minority/immigrant background. Whenever there is an issue, the managers would quickly find anyone with minority/immigrant background to blame for that issue."
"Pros

NONE come to mind – sorry

Cons

– Terrible communication

– Not compensated correctly

– Rude & unprofessional management"

"Pros

Food and the people are great

Cons

Lots of work for little money"

"Pros

none, it's a total scam

Cons

they make you work long hours and when it's time to pay they simply shut down all forms of communication and you don't get paid"
Scamadviser
There is only one review here, but it says everything: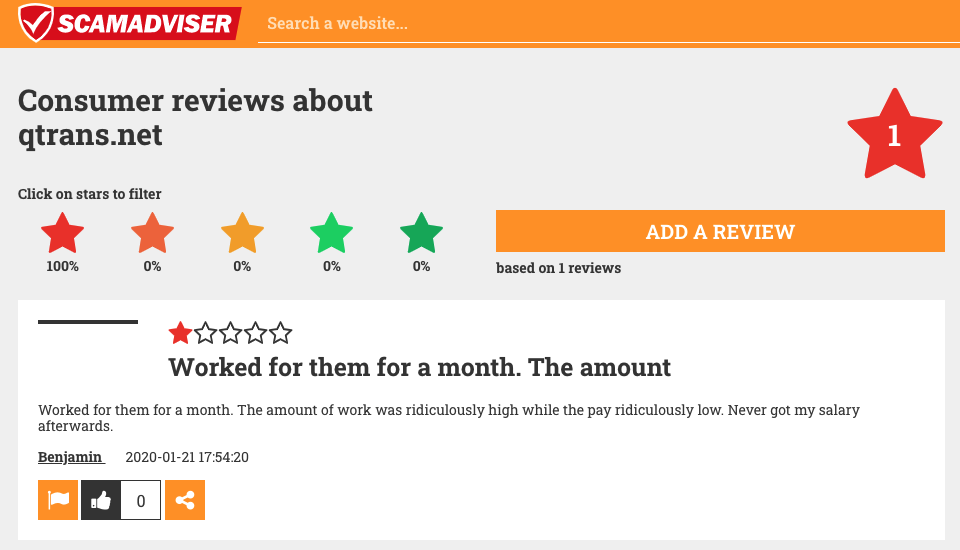 Facebook
During several months many freelancers wrote reviews on Qtrans Facebook page, and they were not positive, to say the least. The average grade was one of five stars. Everyone was talking about never getting paid by Qtrans ON THEIR OWN FACEBOOK PAGE! 
Hilarious!
For some reason the Qtrans Facebook review page is not available anymore.. hmm.. wonder why?
https://www.facebook.com/Qtrans-Language-Solutions-Global-984237395098343/reviews
TRANSLATOR SCAMMERS DIRECTORY
This is also a good resource to verify if your translator agency or translation coordinator is blacklisted
Qtrans Google Maps Ratings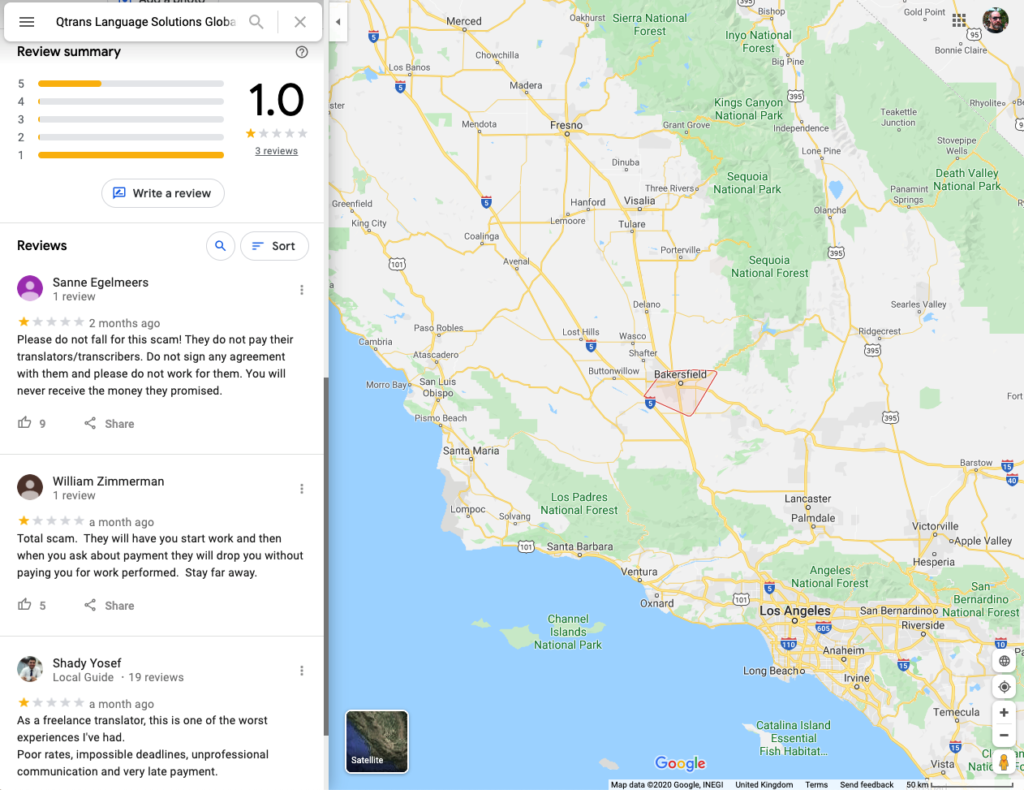 Qtrans payment delay
If you have read this far and are still not convinced that Qtrans is a really bad choice to work for. Then I want to give you my own experience with them in full detail. This will help other freelancers identify the modus operandi of a shady translation agency and reveal the dirty methods they use against unsuspecting freelancers online.
Due to a non-disclosure clause, I'm not able to quote exactly what they wrote in the emails, but only a summary in my own words.
When you ask for money they will start with apologising for the delay in the payment circle and things like that.
Jan 2020
Me: I have not seen any payment for my first invoice for November yet (invoice date 2 Dec). Until that is paid I don't want to commit to any more work right now.
After repeated payment requests they stop answering or procrastinating with phrases like "I escalated your case to accounting".
Usually, this just means they escalate your mail to the Trash folder…
They will now start to procrastinate on a new level and give you the 60 days payment policy.
You wait for the 60 days to pass and then… nothing happens. You ask again about the payment and they throw up the 1000 USD threshold in your face.
(The 1000 USD threshold is not defined in the Third-Party AGREEMENT but in a separate mail much later during the "hunt for money")
You send your Paypal mail again and again and they continue to delay the payment. Then they will start a transaction with eCheck and cancel it while in transit. The money will not reach your Paypal at the same time assuring you the payment is done with a message.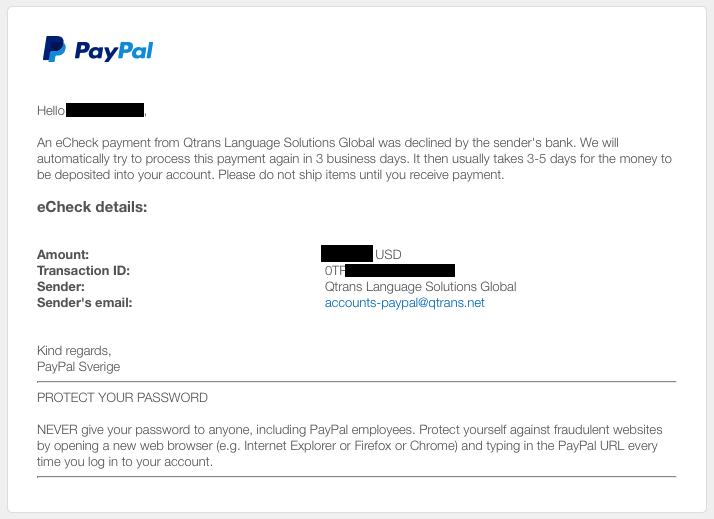 You need to ask about the payment again… Now they blame Paypal(!).
My patience with Qtrans evaporated and it was time for me to escalate the threat level and put some fire under their pants to get them moving:
Me: Mrs. X.X, the payment failed again on YOUR SIDE.

Still no money on your account? Are you insolvent? Bankruptcy?

Time for me to write NO PAYMENT reviews to warn other freelancers?

The payment is 60 days plus over a month after invoice date. 60 days is the EU-limit and I now have legal right to put interest on you for every day that goes by.

Last chance, PAY NOW or I will be posting no payment reviews anywhere and everywhere. As well as on several of my blogs targeting small businesses which freelancers will find when searching for Qtrans in English, Swedish, Finnish, German and Danish.

No more recruiting freelancers in those languages.., get it?

Regards,
Fredrik
NOW they finally paid my work done in November 2019 on 6 Mar 2020, when you threaten them with the right ammunition they move quickly…
But it was rinse and repeat for my second invoice with invoice date 9 Jan 2020. It was a small invoice, since I had already stopped working due to the ridiculously low per-hour-wage it turned out to be when transcribing this very time-consuming audio of videos.
I didn't hunt them for that one just sent some friendly reminders now and then:
13 May 2020

Me: Hi, still waiting for payment of the invoice from January…
But I got no reply or just bullshit emails like "I will check with management and get back to you" or crap like that.
Now I have repeatedly tried to get them to pay since February 2020. It is now late July and they still haven't paid my second smaller invoice. 
Hence I am forced to implement the no-payment-review-plan, which I told them several times I will release if they don't pay. My scam alert will go live on many blogs in multiple languages on 5 Aug 2020. That will help other freelancers stay away from the Qtrans scam, and it will severely impact their recruiting activities in these languages. 
Any freelancer searching for "Qtrans scam" or "Does Qtrans pay freelancers", "qtrans language solutions reviews", "qtrans language solutions global", "proz qtrans reviews" or "qtrans language solutions global glassdoor" will easily and swiftly find my blog posts with severe warnings about getting involved with the fraudulent scam company Qtrans Language Solutions Global. That is why I write this scam alert about Qtrans.
In the end, I was so fed up with Qtrans and sent the last attempt to get paid to them:
30 July 2020

I have still not received payment to my Paypal.

I have attached the original invoice plus the late payment and interest invoice I am entitled to according to Swedish law.

No more stalling, no more forwarding to the accounting department,

no more we need your Paypal mail, no more procrastination,

NO MORE BULLSHIT!

If both invoices are not paid by 4 Aug 2020 23:59 CET this will happen:

No payment reviews and Qtrans scam alert blog posts will be posted on my SME blogs in the following countries:

Preliminary, but not limited to, these languages:

If payment is still not received by 1 Sep 2020, scam warnings may be added in, but not limited to, these languages:

Arabic

Spanish

Italian

Mandarin Chinese

Hindi

Bengali

Russian

Portuguese

Polish
Remember, I make money with ads from my blogs, the more languages I translate to and the more freelancers you scam, the more money I will make.. hence the number of languages I will translate to is only limited to potential earnings of translating blog posts. Several freelancers have already told me they will TRANSLATE IT FOR FREE since it is for a good cause. That means I'm already "in profit" for those languages.
After this, they paid my second invoice WITHIN HOURS after sending the above mail!
They procrastinated for months but if you send the "right" type of email they can suddenly pay AT ONCE! Even during the worst Corona-pandemic-situation so far globally…
However, they DID NOT pay my third invoice. The late payment interest which I am entitled to according to both EU and domestic law.
My requirement was to pay both attached invoices, my second smaller invoice, and my late payment invoice. Since they failed to comply you are reading this blog post. I hope this will help other freelancers avoid going through the nightmare I had to deal with getting paid by Qtrans.
Where is Qtrans located?
They have a PO box office in the USA but appear to be based in Egypt in reality.
4900 California Ave.
Tower B, 2nd Floor, Suite 210B
Bakersfield, CA 93309
USA
—————————————————
Qtrans Language Solutions
Address: 22 El Obour Bldgs.,
Salah Salem Rd., Nasr city,
Cairo
EGYPT
https://translationservicesegypt.com/translation-offices/29-translation-offices-in-nasr-city/173-qtrans-language-solutions
Qtrans is still active and recruiting workers
At the time of writing, they are recruiting Localization project manager, Senior project manager, Translation project manager and Junior business development/Sales specialist.
https://wuzzuf.net/jobs/careers/Qtrans-Language-Solutions-Egypt-24837
Who is associated with the translation agency Qtrans Language Solutions Global?
You can get Qtrans contact details and see names and positions here